Aerial Fire Fighting 2014
As wildfires grab the global headlines,
learn about the latest developments in aerial
fire fighting from around the world.

Conference themes
The latest in a successful series, AFF 2014 is again set to draw
aerial fire fighting experts from across the world.

The conference theme – the next generation, has been set in
light of the current global economic climate, as agriculture,
forestry & fire fighting departments come under increasing
budgetary pressure for performance and spending, particularly
in relation to large wildfire incidents.

Discover the latest efficient & cost effective ways to achieve
wildfire prevention & suppression at this established
international conference.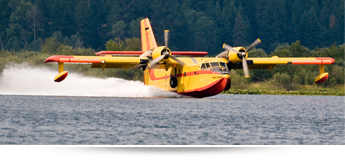 Live Demonstrations:
Aerial demonstration & static display spotlight
The week will conclude with a two-day international discussion
and debate regarding the future of aerial fire fighting along
with an afternoon flying display of water-bombing fixed and
rotary aircraft.
Aircraft who participated in 2012:
Canadair CL-415 Superscooper,
Calfire S-2T
Calfire OV-10,
Calfire UH-1H
Fire Boss AT-802
C-130 Airtanker

For 2014, additional aircraft that will be invited include:
Airtanker DC-10
Beriev Be-200 Mermaid
Neptune BAe-146
Evergreen 747 VLAT
Erickson MD87 VLAT
Shinmaywa US-2
Erickson S-64 Aircrane
AgustaWestland AW139 Helicopter
Columbia Helicopters CH-47
USCG C-130H
Kaman FireMax
Kamov Ka¬-32
USAF Air National Guard - C-130 MAFFS
USMC – Marine Corp - CH-46
NASA Ikhana UAV

Sponsor & exhibitor opportunities
AFF 2014 present a unique opportunity for organisations to
showcase their latest products and services to a highly
professional & international AFF audience.

It remains the must attend event of the aerial fire fighting scene –
so don't miss out, put the date in your dairy and register your
interest now!

Sponsors of the event will have the opportunity for a
speaking slot on the conference programme, a stand space
at a prominent position in the exhibition hall and an
opportunity to be introduced to senior decision making
VIP's during the event (dependent upon participation level)

Who you can meet
This conference and exhibition brings together the international
aerial fire fighting community like no other event.

As in previous years, participants will include:
Senior managers responsible for aerial fire fighting
Directors of fire & aviation
Directors of aerial fire fighting operations
Aircraft safety managers
Air attack officers
Heads of emergency and disaster
European civil protection officers
Forestry department managers
Military Air Force commanders and pilots
Heads of ground fire fighting
Systems acquisition personnel
Training experts
Fire fighting researchers and academics

and many others.

For consideration of operational or technical
papers please contact:
Kate Niven
Tel: +44 (0)1628 660400
Email:
kniven@tangentlink.com